Stepping into the past always opens up paths: knowing the past better opens up a fuller understanding of the present and enables planning for the future. Bamberg researchers in archaeology, heritage conservation studies, Oriental studies, European ethnology and art history work together collegially in a unique interdisciplinary network.
They explore, document and preserve a wealth of humanity's tangible and intangible cultural assets. There is much to do the UNESCO World Heritage city of Bamberg itself, but Bamberg scholars also often pack up their cameras, scanners, UV lamps and sketchpads and work all over the world.
Technologies and Processes for Preserving Cultural Heritage
Modern sensor technology, imaging techniques like 3D scanning, photogrammetry, multispectral imaging, 3D printing and transporting information interactively via virtual reality: the future of preserving cultural heritage will – also – be digital.
With the new Chair for Digital Technologies in Heritage Conservation held by Professor Mona Hess and a master's degree programme in the field, Bamberg is a pioneer in the development and testing of innovative technologies and processes. The university's computer science disciplines are also not far away, and their doors are open, too. The Digital Humanities, Social and Human Sciences is a research focus area for colleagues from the Faculty of Information Systems and Applied Computer Science. Work on techniques and programmes to address issues in cultural heritage conservation is a part of this. "Could you just take a look at this?" is a sentence that also echoes through the offices and corridors of the field of applied computer science.
Technologies and processes for protecting cultural heritage – a selection: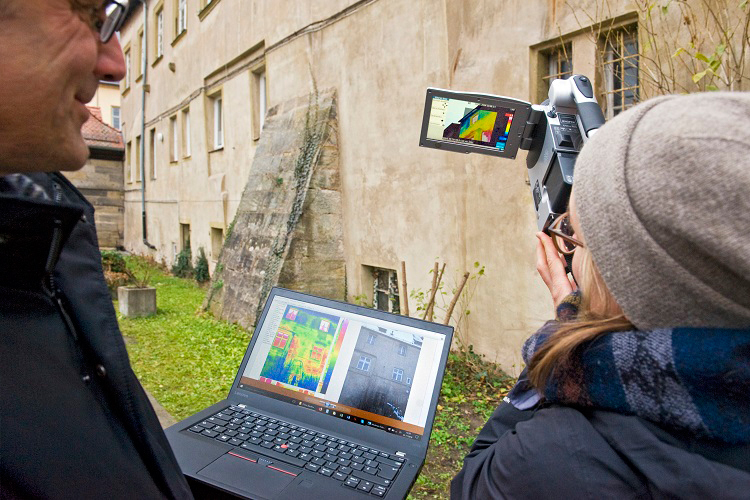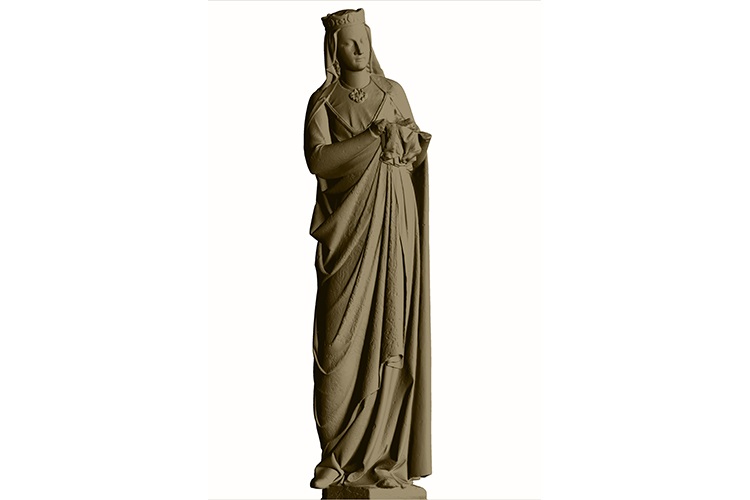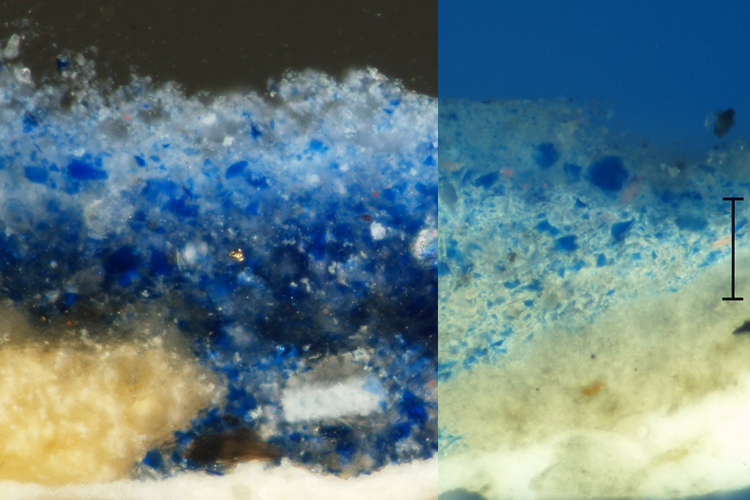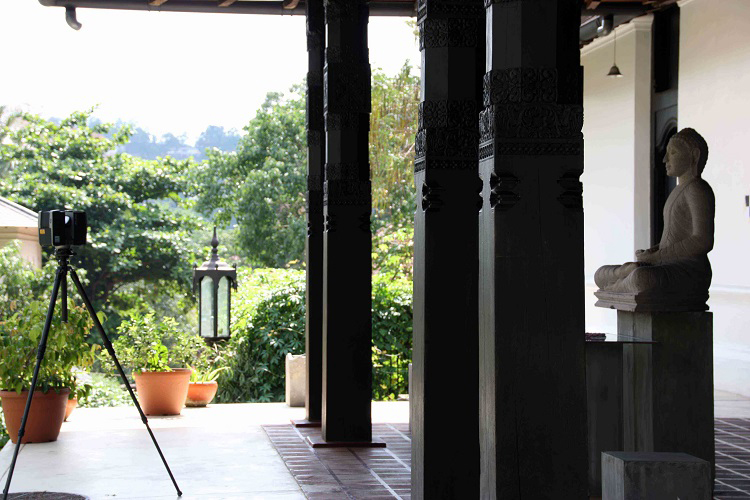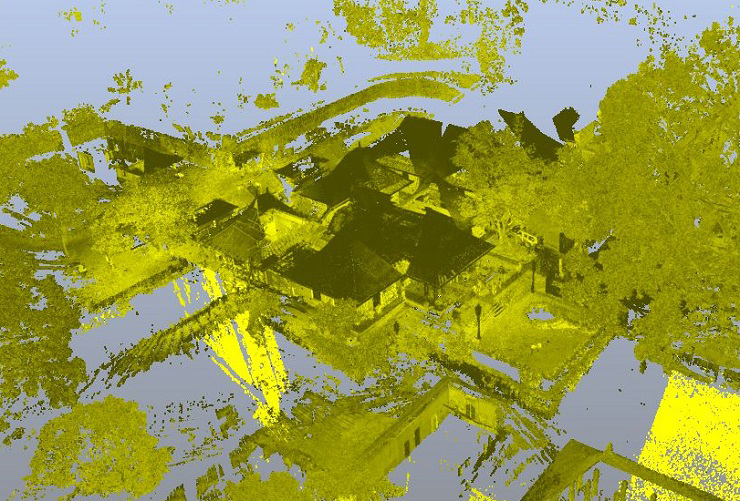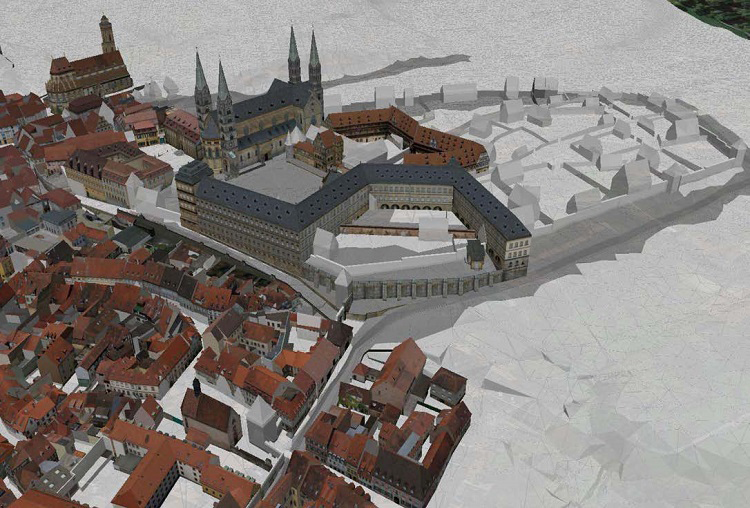 Contactless thermal imaging cameras

Trumeau-Madonna

optical microscopy

3D scanning

3D-Scan

4D city model
Intangible Cultural Heritage
But how can something constantly in flux be preserved: lives being lived, activities, customs, and rituals? The glass cabinets outside Heidrun Alzheimer's office show current research projects at the Chair of European Ethnology. They examine both tangible and intangible cultural assets: everyday culture, fashion, the socio-cultural transformation of the Nuremberg district of Gostenhof from a rough neighbourhood to a trendy residential area with rising rents, the culture of Christmas mangers in a European comparison. Some projects deal with visible and tangible heritage and others with fluid phenomena.
In Alzheimer's role as an expert on intangible cultural heritage, she often immerses herself in new forms of cultural expression. Traditions passed on orally such as popular songs, fairy tales and legends, traditional craft techniques such as lace-making, basket weaving, button-making, and resist block printing in combination with indigo blue dying, performing arts such as flamenco or choral singing, festivals and customs from "A" for Ansingen ("singing in") to "Z" for Zoiglkultur (the culture of brewing Zoigl beer in communal breweries) and, finally, traditional knowledge about nature and the universe passed down through the ages on topics like Alpine farming, medicinal herbs, or traditional midwifery.
Heidrun Alzheimer places particular emphasis on one aspect of these traditions: protecting and preserving traditions does not mean conserving them in their current state but allowing them to continue to evolve and change; this is often misunderstood. Being included on cultural heritage lists focuses attention on communities and is not infrequently accompanied by a strong uptick in interest from tourists and the media which can facilitate the preservation of cultural practices but can also lead to a loss of authenticity and, especially in small communities, create excessive pressures on local inhabitants.
Forms of intangible culture from the Bavarian Inventory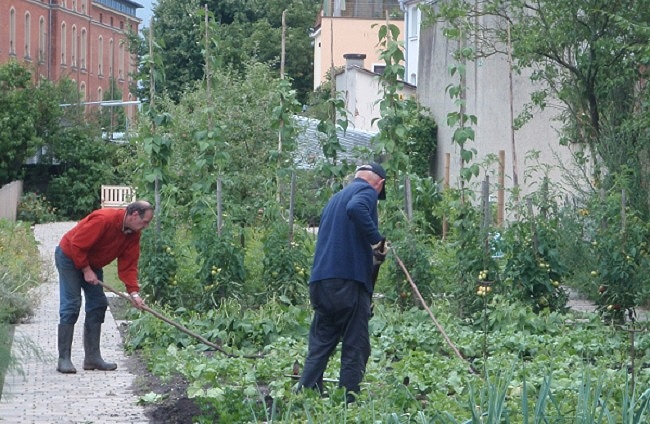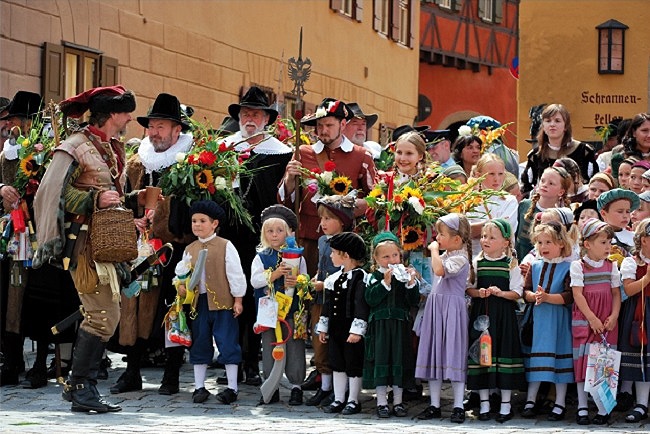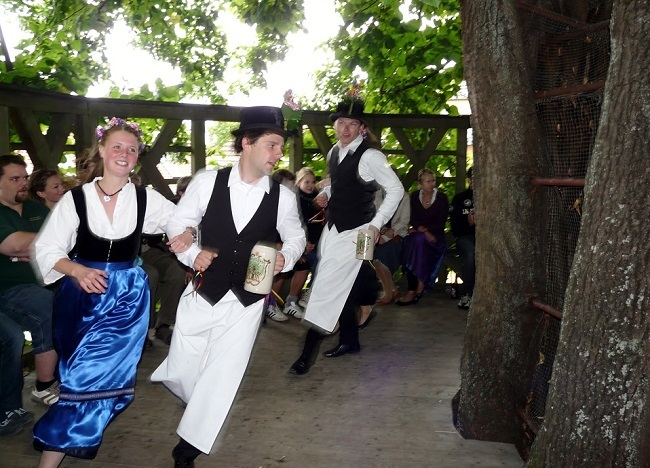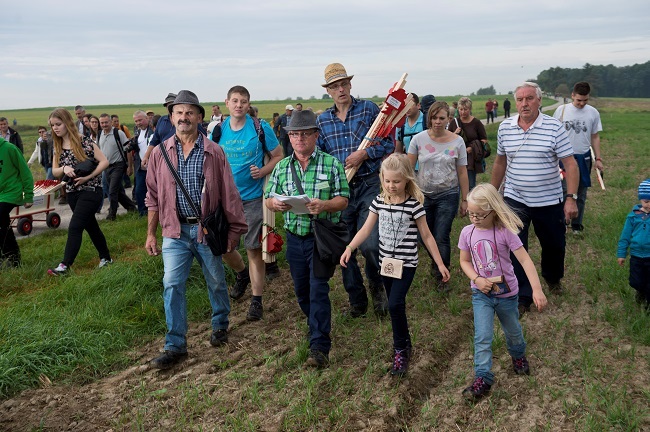 Gärtnerei1

Kinderzeche Dinkelsbühl

Tanz auf der Linde

Osing-Verlosung
Relevance for Society
The intense interest of the general public in archaeology and archaeological finds was reflected in the enormous success of the recent exhibition in the Gropius Bau in Berlin, Bewegte Zeiten ("Restless Times"), that showed archaeological finds from the last 20 years including the famous Nebra Sky Disc. But enthusiasm for archaeological finds has not led to archaeologists themselves being held in high regard; they are often denigrated as treasure hunters seeking riches, fame and sensationalism. It is forgotten at times that archaeologists are first and foremost scholars who generate knowledge from their research. "My discipline needs to think harder about the messages and narratives it can and must convey to society credibly", Rainer Schreg comments. With this in mind, he has maintained his own research blog, Archaeologik, for years now and uses it as a platform to present principles and theories underlying this research discipline, and to counteract prejudices and misunderstandings by supplying clear information.
Like the other disciplines concerned with safeguarding cultural heritage, archaeology does not operate in an ivory tower but forms part of discourses in politics, business and tourism. Analysing the human past and human culture contributes decisively to our understanding of human society today – the chains of causation stretch back into the mists of time. But defining what culture is, what it is to belong to a homeland, to have an identity – answers to such questions are today once again being proffered by populists peddling emotionally powerful narratives with little scholarly substance and scarcely a basis in fact. This is a game played with emotions, half-truths and fake news. In this context, especially, the scholarly disciplines that study culture are challenged to supply narratives that not only reflect scholarship of substance but that can also catch the attention of the public. Narratives that show the human past and human culture in its complexity shed light on relationships and their contexts and dampen negative emotions. This is the context in which every research-based form of safeguarding cultural heritage has a political dimension for Rainer Schreg: these safeguarding efforts are not undertaken in a vacuum but emerge from and are supported by society. For research to wield influence, research and researchers must first become visible, and Rainer Schreg values the communication channels opened up by social media and uses them to introduce theses, projects and examples to the public.
Projects
The diversity of work to safeguard cultural heritage undertaken by Bamberg researchers is visible in their projects. Bamberg researchers have been and continue to be active all over the world – while also not neglecting the world heritage on their own doorstep. From Cathedral Hill in Bamberg via Paris to an excavation site in Iran – the walls separating epochs stand close together and the past seems close enough to touch.
New imaging techniques in heritage conservation
The cathedrals in Cologne, Pisa, Ghent, Vitoria-Gasteiz and Vienna are up to a thousand years old, and all are subject to the ravages of time. Much younger buildings such as the opera house in Oslo, barely a decade old, also need help from heritage conservation experts. In the Nano-Cathedral project, conservationists treated areas of stonework in cathedrals with nanomaterials. Development of these innovative particles – a thousand times thinner than the diameter of a human hair – is progressing rapidly and their use appears to promise great benefits. But can these hoped-for benefits be confirmed? Professor Rainer Drewello and his colleague Max Rahrig, experts in building preservation science at the University of Bamberg, developed a process combining various imaging methods, "opto-technical monitoring", to investigate this question.
The new optical technology allows Rainer Drewello to analyse a surface area of approximately two square metres in a contactless and non-destructive fashion. Opto-technical monitoring combines several processes: high-resolution 3D imaging records the condition of surfaces with an accuracy of 0.3 millimetres and VIS colour photography reveals variations in surface colouring. UV fluorescence photography makes inorganic substances present on the surfaces visible and infrared photography reveals organic materials, in other words biological growths. Together, these four techniques provide a more comprehensive picture than was ever before possible in heritage conservation. When images recorded at different times are layered, weaknesses in the stonework, the progression of weathering and the loss of historically significant surfaces become measurable.
Max Rahrig, Katrin Vill, Christof Altmann/KDWT/Universität Bamberg 2017
Structures below ground on Cathedral Hill in Bamberg
Cathedral Hill in Bamberg can be seen as the nucleus around which the city was founded. For many centuries, the cultural centre of the city and the power centre of the prince-bishopric were here. Although the cathedral and the palaces of the prince-bishops have been comprehensively researched, the old cathedral curiae within this castle complex have not received as much attention. Some of them have, indeed, slumbered like Sleeping Beauty since losing their original purpose with the secularisation of the prince-bishopric and being repurposed and partially rebuilt or demolished. It is thus unsurprising that an overview of these structures and especially of their underground features has been lacking. The project "Underground Structures of Bamberg Cathedral Hill: Investigations Reconstructing High Medieval Buildings" therefore pays special attention to structures reaching below ground such as cellars, tunnels, shafts, and wells. This project is expected to generate new insights into the evolution of the settlement structures around the medieval cathedral and castle, but also insights into the architectural history and the construction of individual curiae. In addition, it is anticipated that the work will generate momentum and supply data for the long-term conservation of the buildings and the preservation of their medieval structures. These structures have survived here to a degree which compares favourably with other cathedral cities. To some extent, they only need to be discovered and, to stay with the Sleeping Beauty metaphor, reawakened to life. "From the vantage point of buildings research, we are looking at some minor sensations here," comments Professor Stefan Breitling, the project director.
Insights into building history and research gained during the project can be integrated into the existing 4D digital model of Bamberg around 1300. This makes it possible to reconstruct the medieval buildings virtually as they looked during different construction phases. This creates a basis not only for academically sound analysis, but also for communicating knowledge to interested members of the general public in formats that are visually easy to access and understand and thus also benefit the city's world heritage management.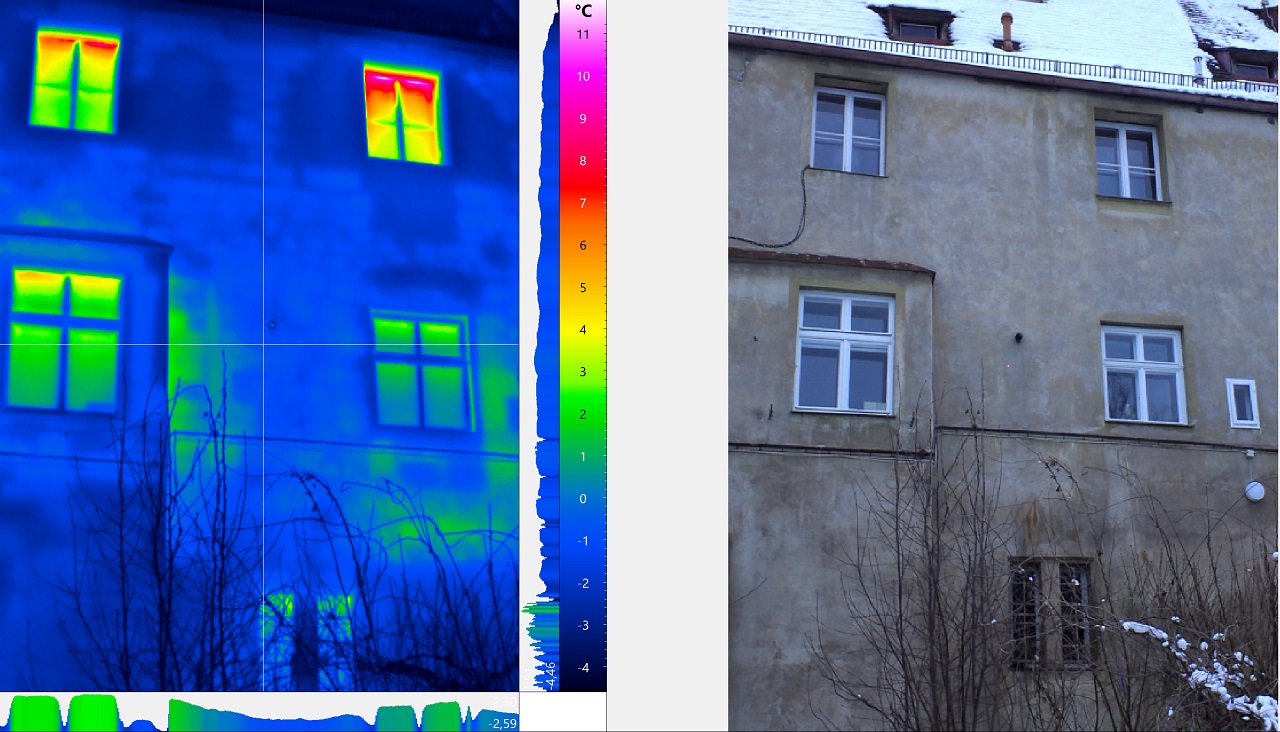 Stefan Breitling
Art technological research on the easel painting of the Nazarenes
During the turbulent times of the Napoleonic wars, a group of artists in Vienna and Rome – the Nazarenes – grappled in their works with the legacy of paintings by German and Italian masters of the Middle Ages and the early Renaissance. They hoped to reform art with their reception of fifteenth/sixteenth-century paintings and their religious and patriotic stances. "At the same time, the young disciplines of art history, restoration, and chemical analysis were investigating historical painting techniques and asking questions about dating oil paintings and about the specific properties of wax and tempera painting. The extent to which the members of this grouping of artists were aware of this research and considered it in their own painting technique is one of the exciting questions behind this project," comments project leader Dr. Eva Reinkowski-Häfner.
The development of individual painting styles and the materials and techniques used will be examined by comparing paintings from the oeuvres of Peter Cornelius, Julius Schnorr von Carolsfeld, Johann Friedrich Overbeck, Franz Pforr, Ludwig Vogel and Wilhelm Schadow. As well as seeking to discover more about how these artists toiled in their studios, the project will also examine the wider artistic environment within which they worked, the options open to them for procuring painting materials, and the links in both directions between their choices of materials and their artistic intentions. Opportunities to use art technology to examine and compare paintings from different museums will be exploited. The project will combine methods from a range of disciplines: literature research and sources research from the art history perspective, technical analysis of the paintings, and scientific analysis of the materials used. The project is expected to generate valuable insights into the painting techniques used in Nazarene easel painting and on the influence of the Nazarenes on painting techniques throughout the nineteenth century.
Climate change damage to cultural assets
Longer periods of heat and drought in summer are exerting noticeable effects on historic buildings. Where excessive humidity was more of a problem in the past, inadequate humidity is now proving problematic; critical values below 40 per cent humidity are being measured ever more frequently indoors. As Paul Bellendorf, Professor of Materials and Preservation Science at the University of Bamberg, explains, "These low humidity levels pose threats for artworks in numerous genres that rely on organic materials like canvas for paintings or paper and leather for wallpaper." Permanent damage – cracks for example – can result. "We are making the first Germany-wide comparisons on the phenomenon of low humidity. Ideally, we will then be able to formulate suitable strategies for preventive damage control."
Paul Bellendorf is leading the research project "Risks of damage to cultural heritage due to insufficient relative humidity in interiors of nationally valuable cultural property" together with research assistant Dr. Kristina Holl. They have developed a questionnaire to record and evaluate climate-related changes and their effects.
They are also looking at three case studies in Saxony and Saxony-Anhalt where damage attributable to severe dryness has already arisen. One of them, the castle "Schloss Moritzburg", has extensive baroque leather wallpaper featuring motifs such as Diana, the goddess of the hunt. "The painted designs have been restored using complex techniques in recent years and they are already showing damage in the form of shrinkage cracks attributable to periods of extreme heat," Paul Bellendorf says. The researchers use special measuring equipment to record the climatic conditions on site and on the surface of the objects of their research. They can use this data to evaluate the risks in Moritzburg Castle and to compare the castle with the other two case study sites.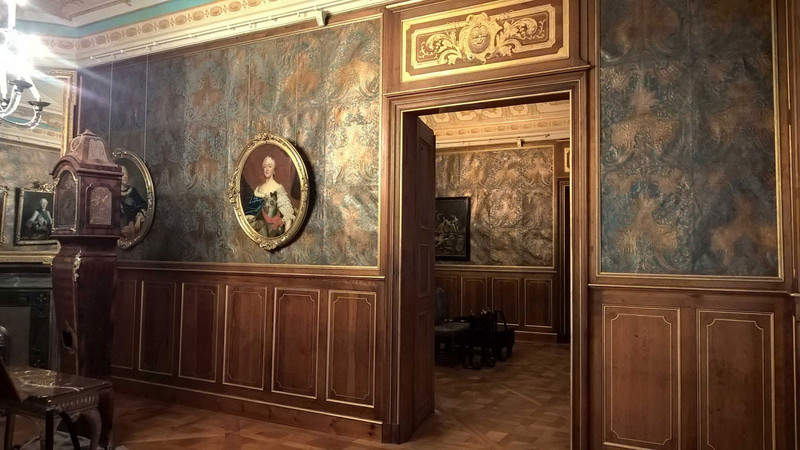 Thomas Löther/IDK