Lives on Unequal Paths
Lives take different courses – in areas such as careers, health, and partnering up. How do people, organisations and societies develop? How does social origin influence educational and career trajectories? Top-flight European empirical social research on issues surrounding work and education is carried out at the University of Bamberg.
The researchers aim to understand people and societies more fully. Their work produces ideas that prove useful in policy formation and politics, business, and everyday contexts. Researchers in the disciplines of education, psychology, sociology, business administration, economics, political science, demography and statistics work collaboratively on interdisciplinary projects. They also cooperate with other research institutes in the region, chiefly the Institute for Employment Research (IAB) and the two independent research institutes affiliated with the University of Bamberg: the Leibniz Institute for Educational Trajectories (LIfBi) and the State Institute for Family Research (ifb).
Projects
Mona's and Roy's sons have life paths with enormously diverse options ahead of them. Will they opt to pursue vocational or academic qualifications? What occupations will they choose? The couple has one wish, above all, for their sons' futures – whether they wind up working as early childhood educators, controllers, cooks, or carpenters – and Roy gives voice to it: "It would be nice if our sons could fully develop and use all their abilities. I hope that they will use their own personal talents to make a positive contribution to society."
People's own decisions have an impact on their personal paths through education, employment and life. But background conditions in society also play a very significant role. Empirical social research on education and work focuses both on individual life trajectories and on the bigger picture. A representative selection of projects gives some insights into the questions that researchers tackle.
Migration: Providing political education
People with migration backgrounds can have experiences of feeling included in or excluded from society. These experiences can foster pro-democracy mindsets or nationalistic attitudes. The Chair of Foundations in Education has reconstructed the attitudes of migrants with Turkish origins towards democracy. "We are chiselling out the attitudes towards global society that are prevalent among this migrant group, the largest in Germany", explains project leader Professor Annette Scheunpflug. "How does this group situate itself in terms of spaces for political participation? And what conclusions can we draw from this for planning political education provision?" The research team aims to develop new political education programmes on the basis of the results of the study.
Rachel Martin/Unsplash
Mental stress at work
The digital transformation is changing the demands made of employees: they may, for instance, be expected to be available at all times and capable of multitasking and technical troubleshooting. Project leader Professor Judith Volmer and her team are working on a project on mental health in the work context with funding from the European Union. She describes this work as follows: "Our project team is developing an online diagnostic procedure to measure psychological stress and resources in the work context." After this diagnostics phase, the team provides companies with an online tool for reducing stress and building up psychological resources.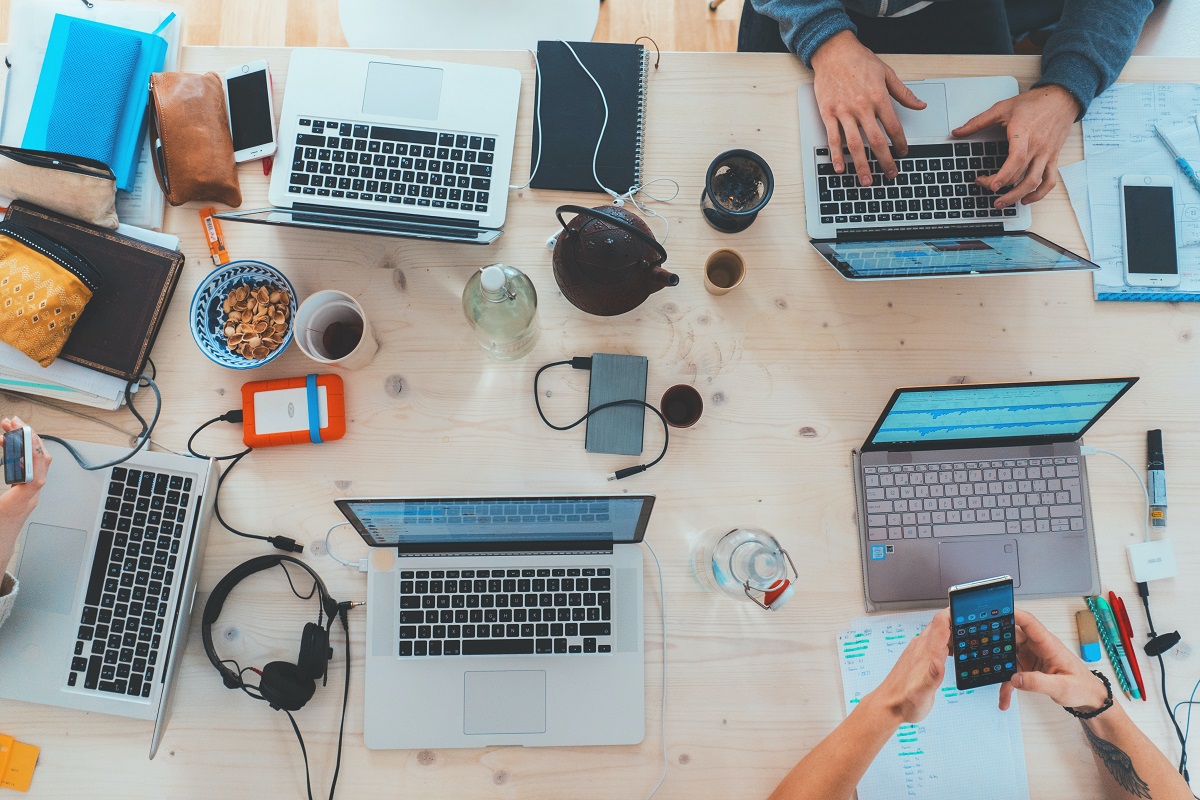 Marvin Meyer/Unsplash
Cultural education in rural regions
In isolated rural localities, forms of cultural education may appear not to be flourishing as the local population ages and shrinks. But the question arises as to whether the inhabitants are still maintaining and passing on forms of culture and how this is done. "In our research project, we focus on local education processes and enquire into the extent to which they trigger new ways of finding identity in communities," says Professor Julia Franz, the holder of the Professorship of Adult and Further Education. A sub-project she is conducting with Professor Anette Scheunpflug and Claudia Kühn is looking at two Upper Franconian communities to determine, among other questions, how cultural education processes are being shaped across generations. What roles are clubs and associations, church congregations and families playing? This is what scientists are researching in the project Tradierung – Vergewisserung – Doing Identity (TraVI) (Handing on traditions – Affirming traditions – Doing Identity).
Sergiu Vălenaș/Unsplash
Writing with one's right-hand – obligatory!
For many years, primary school teachers instructed children with a preference for writing with their left hand to write right-handed. Primary school curricula in the different German states moved away from this insistence on retraining children at different times. At the Chair of Empirical Microeconomics, data from the Socio-Economic Panel (SOEP), one of the largest and longest-running multidisciplinary household surveys worldwide, is being drawn on to investigate the long-term effects of this retraining on educational attainment, labour market opportunities and well-being. "Analyses that allow conclusions on causation are at the heart of our research," Professor Guido Heineck explains, "for example on the links between educational reforms, educational attainment and subsequent employment and earnings trajectories."
lilartsy/Unsplash